Two years ago, as a way to celebrate my step-father's birthday, I piled into a car with my parents and Cory for a mini road-trip to central Pennsylvania. My step-father wasn't entirely sure where we were going, but he was exited that it had something to do with architecure (it's something he's interested in for work and for play). Within a few hours we reached our goal:
Fallingwater
, a Frank Lloyd Wright home.
I cannot express the magic this home holds. First of all, it's tucked away in the middle of the woods. The drive is so scenic, which is perfect, because the scenery really sets the mood for the construction and beauty of the home.
Once you're actually on the
Fallingwater
property, you park and walk to a little rotunda where you can check in and visit a gift shop full of literature about Mr. Wright, design, architecture, the family who owned/owns Fallingwater and a lot of cool little trinkets representing Mr. Wright's design aesthetic (which I happen to l.o.v.e.).
This is where you wait until your numbers are called to move on to the actual house. It's a brief half mile hike to get to the house from the rotunda, and still just as beautiful.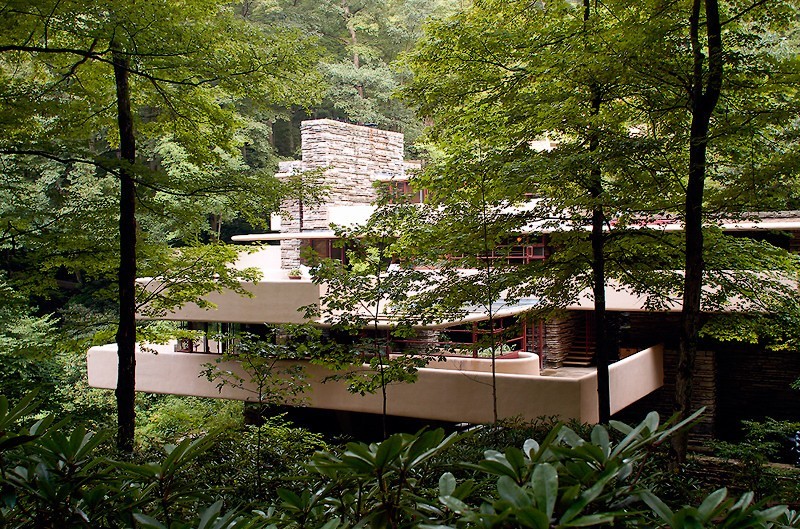 As you walk up the hillside, that is where you get this iconic view: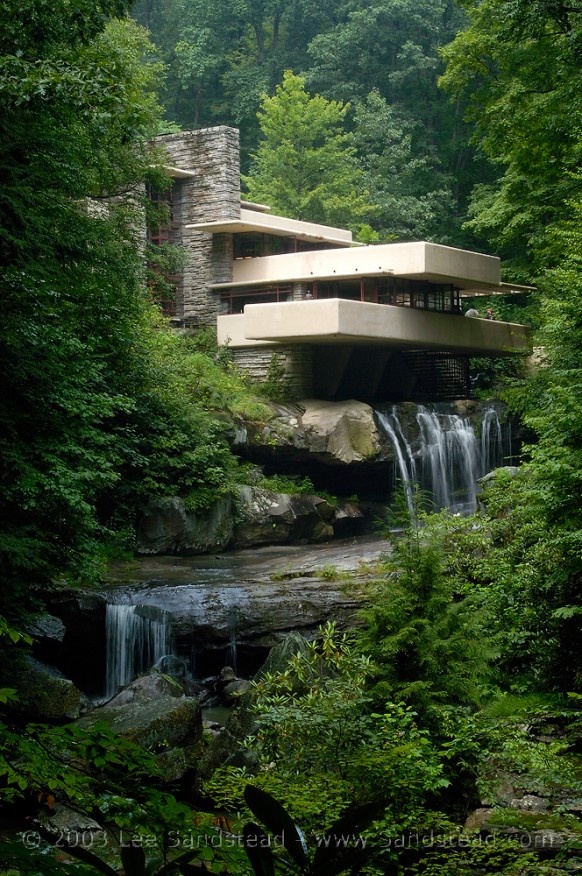 You walk a little futher and you begin to see so many different hidden features of this gorgeous piece of art as you get closer. This is where your tour begins, and where you are no longer allowed to take photos! Darn! So, I will share with you photos of what I remember from the tour via
Home-Designing
.
You enter the home by walking up a set of stairs that are build above a small pond. This is where the lady of the home, Mrs. Kaufmann, would soak her feet or relax after a long day.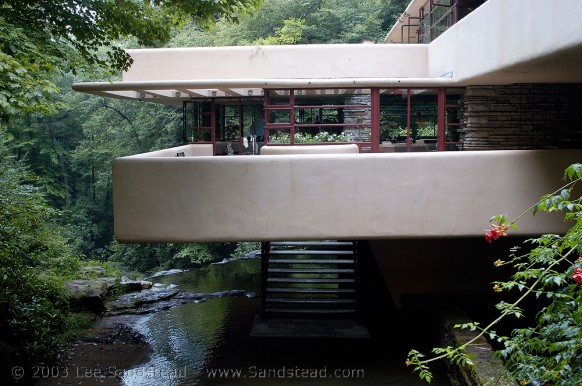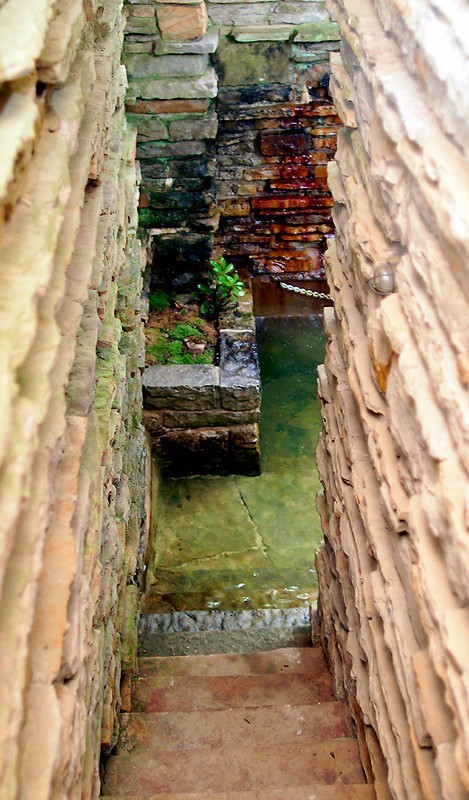 The first room you walk into is this large family room.
Here are a few things for you to notice:
-FLW designed all the furniture and color schemes for his properties. Everything in this room was specifically placed and designed by him to match the home.
-This room has a serious mod mid-century style, yes? Well, FLW designed it in the 1920s and was completed in 1934. Talk about way before his time. His aesthetic is incredible!
-I thought it was really cool how he incorporated so many different styles within his scheme for this style. It is all so modern but represents qualities of Asian and European style as well.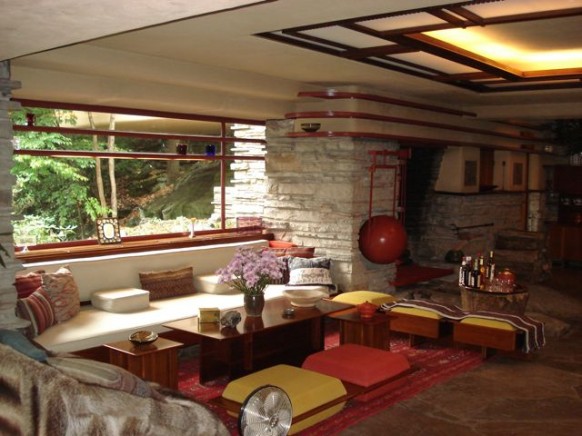 The windows were specifically designed to allow the eye a natural view of the scenery without an industrial break. They flow with the view, I promise. Notice how that corner window opens? The glass is seamless when it shuts. It's so cool!
The other cool thing is that FLW made sure to incorporate a lot of storage into his design. I mean, the family he built it for did own a pretty popular department store, Kaufmann's.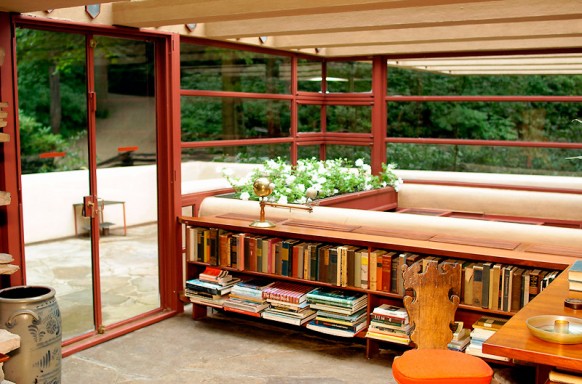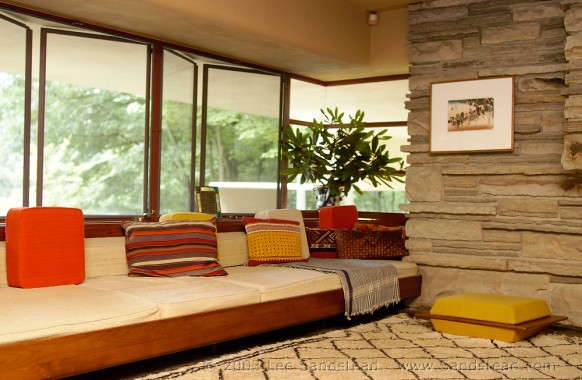 Like I said, everything was designed specifically for this home. Imagine these colors coming to life in the fall. Yum!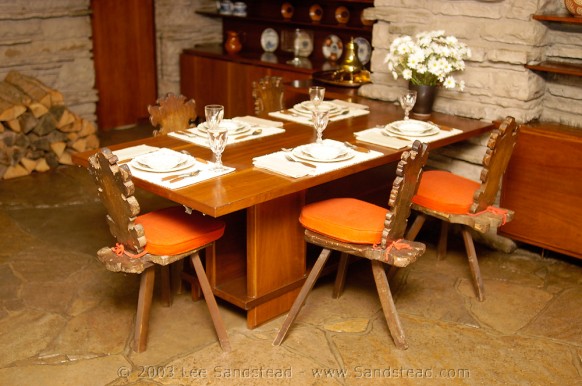 One funny thing I remember from the tour is that these are not the original chairs FLW designed. Apparently his original chairs were really uncomfortable, so they commissioned him to design new chairs ;).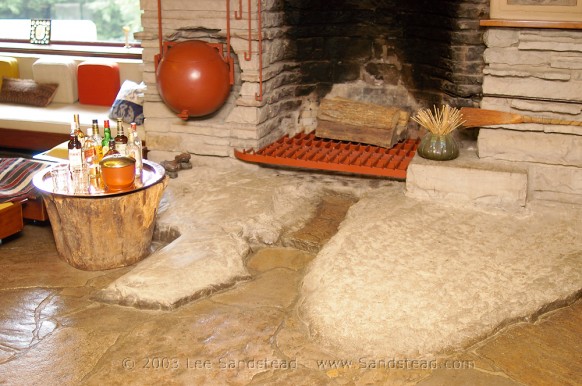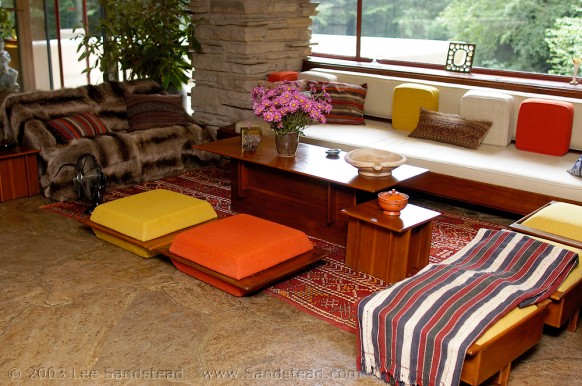 The tour ends with a snapshot view into a second home that is on the property. The additional home is just as beautiful as the original Fallingwater, but a bit smaller as it was used for guests or the help.
Well, I hope you enjoyed my mini-tour! If you're close to central PA, I strongly encourage you to take advantage of a tour of this home. It is so inspiring and really supports the upkeep of the home.
What a beautiful way to start a Wednesday ;).