For
Valentine's Day
, Cory and I stayed in Baltimore,
remember
? One of the bars we visited that night was The Owl Bar at the Belvedere hotel. The Belvedere is a classic staple in Baltimore history and has been kept in pristine condition over the years.
In fact, it was featured in an episode of Mad Men!
(You may not know, the head writer of Mad Men, Matt Weiner is from Baltimore, and so is Roger Sterling's young wife, Jane Seigel Sterling!
What up, Charm City!)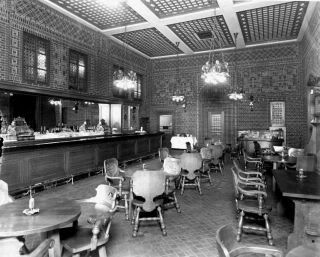 Long story short, the inspiration for this post comes from an idea of one of Cory's colleagues. A teacher wants to promote an oral history class of western Maryland and discuss various events. Personally, I think the class would be better served if the students studied oral histories of various locations in Maryland. I think this would be cool because you could interview countless people who have drastically different perceptions of the same place. Wouldn't it be cool to know what other famous people have visited the Belvedere or the Owl Bar?
Maybe one of these days this idea will make me famous :)