After a pretty late night last night, Cory and I sat around most of today and were complete sloths. We ordered pizza in (I chewed in itty bitty bites), watched football, and most of season 1 of Heroes. I'm not a big fan of Heroes, but I am a big fan of my husband, so I figured I would make do by sitting on the couch next to him with some yarn and a crochet hook.
Long story short--I had MAJOR cabin fever by mid-afternoon. We pulled ourselves out of the rut we had made on the couch and made our way to the movie theater and saw
The King's Speech.
I highly recommend this movie. It's probably one of the best movies I have seen in YEARS. So good! Plus, the styling is amazing and dialogue is great (quite a few witty lines thrown in that are really charming). It's touching in all the right ways; the perfect movie for winter. So, so good.
Here are some of my favorite shots from the film: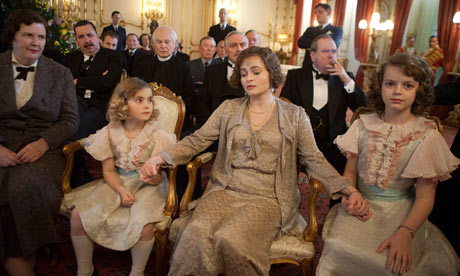 I have always loved Colin Firth, but this role only secured my admiration for him as an actor. It is such a beautiful story and I would love to hear what you think of it... so go see it!